Triple Crown Casinos is a popular destination for casino enthusiasts. With three casinos to choose from — Brass Ass, Midnight Rose, and McGills — there's a wide variety of games to play. Whether you're a fan of traditional table games, enjoy the thrill of slot machines, or prefer to test your skills in poker, there's something for everyone. This article examines the different games you can play at Triple Crown Casinos.
Slot Machines
Classic Slot Machines
Double Diamond
Triple Diamond
Red, White, and Blue
Wheel of Fortune
Triple Crown Casinos offers a variety of classic slot machines. These games are perfect for those who enjoy the traditional casino experience. They're simple to play, and you can win big with just a little luck.
Video Slot Machines
Game of Thrones
The Walking Dead
Buffalo
Wheel of Fortune 3D
For those who prefer a more modern gaming experience, Triple Crown Casinos also offers a variety of video slot machines. These games feature stunning graphics and exciting bonus rounds. Plus, with themes based on popular TV shows and movies, they're a lot of fun to play.
Table Games
Blackjack
Craps
Roulette
Three Card Poker
If you prefer table games, Triple Crown Casinos has you covered. They offer a variety of games, including blackjack, craps, roulette, and three-card poker. Whether you're a seasoned pro or a beginner, you'll find a game that suits your skill level.
Poker
Texas Hold'em
Omaha Hi-Lo
Seven Card Stud
Triple Crown Casinos is also home to a state-of-the-art poker room. They offer a variety of games, including Texas hold'em, Omaha hi-lo, and seven card stud. Plus, with daily tournaments, you can test your skills against other players and win big.
In addition to poker, Triple Crown Casinos is home to many other casino games, including slots, table games, and more. With hundreds of machines from top providers and daily promotions, you'll never run out of ways to win. Plus, with their exclusive rewards program, you can earn rewards points just for playing, allowing you to get even more out of your gambling experience.
Sports Betting
Dive into the electrifying world of sports betting with Triple Crown Casinos! Whether you're a seasoned pro aiming to make a five-team parlay or a newbie hoping to cheer on your favorite team, we've got you covered at McGill's Hotel and Casino which hosts sports betting through BetRivers Sportsbook. Engage in the thrilling action of betting on sports ranging from football and basketball to hockey, MMA and racing. With over 1,000 betting options available per day, all your favorite Denver sports are at your fingertips, and our low minimum bet options make it accessible for all levels of bettors.
Dine at the Pint & Platter
While you're caught up in the adrenaline-pumping action, relish the incredible food and drink offerings from the Pint and Platter. Our menu boasts classic pub fare, all-American favorites, and more. Indulge in a range of appetizers, burgers, sandwiches, salads, steak, seafood, and delectable desserts. Quench your thirst with our specialty drinks and draft beers in a 20 oz. pub glass. As an exclusive treat, we are the only venue in Cripple Creek offering Guinness on tap!
Triple Rewards Program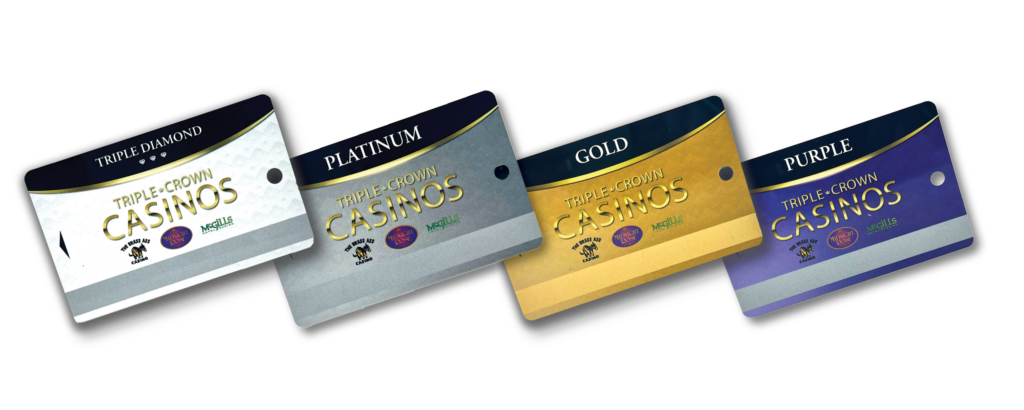 Experience the thrill of victory with the Triple Crown Casinos Triple Rewards Program, an innovative loyalty program where members accumulate points while playing at our three casinos — the Brass Ass, Midnight Rose, or JP McGills. Points, awarded at 1 for every $2 bet on reel slot machines (some machines offer lower rates), can be redeemed for a wide range of benefits, including gift shop discounts, dining offers, exclusive room rates, and invitations to special events. Move up through the reward tiers, from Purple to Diamond, each with its own set of rewards. Sign up at any of our casinos to start earning points. Points are earned and redeemed within specified periods and expire after 13 months. Contact our Guest Services Desk with any questions. Sign up today and reap the rewards of your play!
Enjoy the Thrills at Triple Crown Casinos
Loose. Local. Lucky. At Triple Crown Casinos, come home to a place where everyone knows your name. Every time you walk through the doors, our friendly staff greets you with a smile and are always eager to learn more about you. We're not just another casino; we're that small, locally-owned gem that roots for you to win and cherishes every moment you spend with us. Why? Because at Triple Crown, we genuinely want you to have a blast and pocket some wins too! We're proud to say that being local allows us to offer more generous payouts.
Whether you're spinning your favorite slot, feeling the adrenaline of the table games, or going all-in with poker, we've got the perfect game waiting for you. So, why keep the excitement waiting? Dive into the warm atmosphere of the three Triple Crown Casinos and elevate your gaming experience.
If you ever have questions or are just feeling chatty, our staff is always around to help or share a good laugh. After all, we're here to make every visit memorable. So come on over, let's make some memories at Triple Crown Casinos — where every game day feels like a celebration!