Triple Crown Casino Rewards is more than a loyalty program, it's our way of showing you we want you to win! As a member, you'll earn Triple Rewards Points which can be redeemed immediately for your choice of complimentary perks and discounts, or save up for some really big surprises! Play at any of our three casinos - the Brass Ass, Midnight Rose, or JP McGills and be our VIP, earning recognition and rewards.
Joining is easy. Sign up at one of our casinos before you start playing.
Play and earn Triple Rewards Points:
Earn 1 Triple Crown Casino Point for every $2 bet on a reel slot machine. Some machines have lower earning rates, and these games will be marked with the required earning rate.
Can I earn points at all three casinos?
Claim your Milestone status by earning Triple Rewards Points at any of our three Casinos - The Brass Ass, Midnight Rose, or JP McGills. Make sure you sign up before playing - points can only be earned when Triple Crown Rewards loyalty membership is presented at the time of the transaction.
What complimentary perks will i receive?
We want you to win - and now you can win even more! We have fun and exciting discounts and complimentary perks at each level. Earn loyalty discounts and complimentary perks such as:
Gift Shop Discounts
Special offers for dining experiences
Member-only rates for rooms and suites
Exclusive invitations to events and promotions
Milestones
Earn points and level up to access fun and exciting discounts and complimentary perks. View your Milestone on the Triple Crown Casinos website.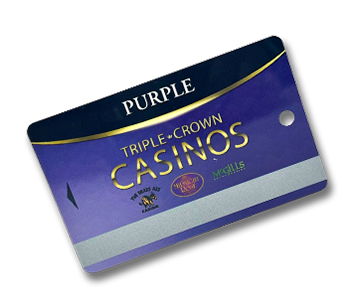 PURPLE
Base Level
0+
TCC Tier Points
GOLD
Base Level 1
20,000+
TCC Tier Points
PLATINUM
Base Level 2
60,000+
TCC Tier Points
DIAMOND
Base Level 3
150,000+
TCC Tier Points
When can I earn and redeem my points?
Triple Rewards Points earned during the qualifying period (Jan. 1 - June 30 or July 1 - Dec. 31) determine your tier level. Points must be redeemed within 13 months. Triple Rewards Points reset at the beginning of each qualifying period. Triple Rewards accounts inactive over 180 days may be subject to deactivation.
Visit Guest Services Desk for more information.
Sign up for free at Guest Services and start getting more of what you play for!
Yes, give me more!
FREE PLAY, OFFERS, DRAWINGS
Management reserves all rights. Triple Rewards Points earning is subject to Triple Crown Casinos Rewards terms and conditions.