Dive deep into the alluring realm of Triple Crown Casinos in Cripple Creek, Colorado, where every experience is tailor-made to exceed your expectations. From our unmatched loyalty program designed to lavish you with rewards to our accommodations that whisper luxury, from our culinary masterpieces that dance on your taste buds to the sheer thrill of our gaming world, we've got everything that spells grandeur. In this blog, we unravel the "Triple Crown Advantage," showcasing how our three iconic casinos – the Brass Ass, Midnight Rose, and JP McGills – offer more than gaming: they promise an adventure of a lifetime.
Feel the Adrenaline Rush: Dive into Triple Crown's Gaming Excitement
Triple Crown Casinos invites you to test your luck at Colorado's favorite gaming destination! Revel in the excitement as you play on the state's loosest slots, with titles like Buffalo Grand, Game Of Thrones, and the first-in-Colorado Dragon Tower Jackpots. Remember our top slot machines like Grand Fu Wheel, Lightning Link, and Dragon Link, among others, promising an unparalleled gaming experience with mega-win opportunities.
But the action isn't just limited to slots. We're thrilled to offer live table games like Blackjack, Craps, Roulette, and Baccarat at the iconic Brass Ass Casino. Whether you're a seasoned pro or starting, our friendly dealers ensure a memorable experience.
For card enthusiasts, the Midnight Rose Poker Room awaits. As the sole poker room in Cripple Creek, it promises an authentic gaming experience with multiple tables and Colorado's friendliest dealers. Plus, we cater to every gaming preference with electronic table games and a range of stakes to suit every player.
Remember, swipe your Triple Play Club Card while enjoying your favorite games to maximize rewards. From table games to slots, your gateway to high-stakes fun and fantastic payouts is at Triple Crown Casinos. Dive into the action today!
Unlock Exclusive Perks with Triple Crown's Ultimate Rewards!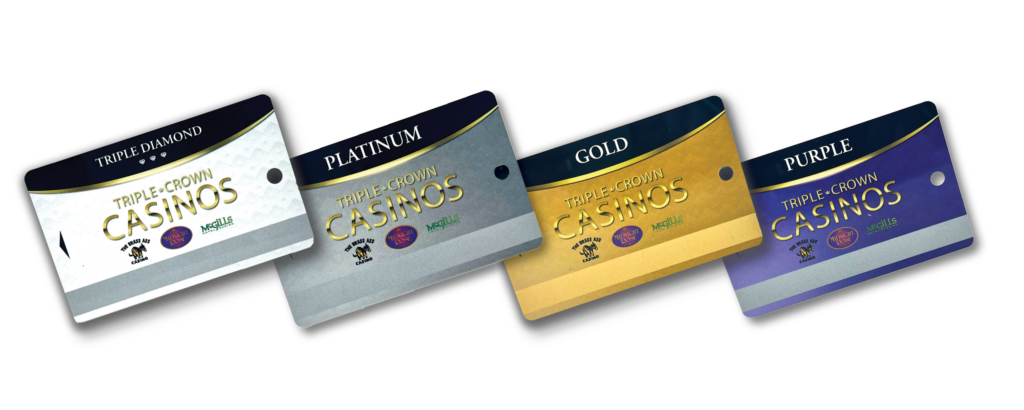 Step into the world of Triple Crown Casinos in Cripple Creek, Colorado, and become a revered Triple Crown VIP! By joining the Triple Crown Casino Rewards program, you're not just signing up for a regular loyalty scheme but embracing a world of winning opportunities. Every game you play at our three iconic casinos – the Brass Ass, Midnight Rose, and JP McGills – lets you earn points, which can be redeemed for complimentary perks and discounts. Whether indulging in reel slot machines, trying your hand at video poker, or challenging yourself at table games, every bet counts. But remember, sign up online or directly at our casinos to start reaping these benefits. Once registered, every $2 bet on a reel slot or every $4 on video poker will earn you Triple Crown Casino Points. Table games have particular Match Play points based on the game type, average bet, and play duration. Ensure your membership is presented at every transaction across all three casinos to claim those points! As your points accumulate, enjoy myriad benefits from discounts at our gift shops, exclusive dining offers, member-only room rates, and special event invites. Track your progress and discover rewards at any Triple Crown Casino. Sign up at the Brass Ass, Midnight Rose, or McGill's today!
Indulge in a Culinary Adventure: Taste the Best at Triple Crown
Indulge in a culinary journey at Triple Crown Casinos! At Dynamite Dick's, located just steps from the gaming action in the Midnight Rose, feast on delights spanning breakfast to dinner, and don't forget to try our irresistible desserts. Open from 8 am to 9 pm, Dynamite Dick's promises sumptuous meals anytime you crave them.
For those with a penchant for authentic pub ambiance, McGills' Pint & Platter awaits. Nestled inside McGills Casino, this unique Irish pub boasts a historic carved bar, Irish artifacts, and stained-glass windows. From appetizers to desserts and the only Guinness on tap in town, the Pint & Platter ensures every bite and sip is a delightful experience.
Finally, The Miner's Pick offers the ideal quick-stop solution for those who are always on the move. Open from 11 am to 11 pm daily and conveniently housed in the Brass Ass, the Miner's Pick serves a range of tasty snacks, pizzas, drinks, and more for the on-the-go casino enthusiast. The Miner's Pick covers your early-morning or late-night cravings.
Dine with us and elevate your Triple Crown Casino experience!
Unleash a Perfect Getaway: Stay & Revel at Triple Crown Casinos
Are you considering a stay in Cripple Creek? Triple Crown Casinos is the pinnacle of comfort and convenience. Choose our Deluxe Suites, designed for those who love space and luxury, with grand beds, fireplaces, and the latest amenities like free high-speed Wi-Fi and HDTV. If you're an adventurer set to explore the vibrant casino floors or the picturesque trails of Cripple Creek, our Deluxe Rooms housed in both McGills and Midnight Rose are your ideal hideaway. Every room ensures a rejuvenating stay with HDTVs and lightning-fast Wi-Fi. On a tighter budget? No worries! Our Standard Rooms are perfectly tailored to give you easy access to the thrills of our casinos and sumptuous restaurants, all while offering the essentials like HDTV and complimentary Wi-Fi. At Triple Crown Casinos, we prioritize your comfort, ensuring every moment, whether inside or outside the room, is memorable. Book now for unparalleled value in Cripple Creek!
Plan Your Next Adventure
Triple Crown Casinos are not just another pit stop in Cripple Creek, Colorado; they represent the epitome of entertainment, luxury, and reward. We pride ourselves on ensuring that every guest's experience is spectacular. Whether you're seeking the thrill of a jackpot, the serenity of a luxurious stay, the delectable taste of culinary wonders, or simply the joy of exclusive perks, Triple Crown Casinos has it all. So why wait? Dive into a world where opportunities to win are around every corner, where every stay is memorable, every meal is a delight, and every game is an adrenaline-pumping adventure. Discover the Triple Crown Advantage today!